Dive Mask Cream
Sale price Price $47.00 Regular price Unit price / per
Tax included.
Shipping
calculated at checkout.
Time to grab your Dive Mask and dive in and look beyond the surface.
Your moment to immerse yourself in nature. Feel the waves lull you into a sensory stillness, as you revere the sun glistening through the water from above.
The Dive Mask has a secure waterproof seal made of soft silicone. Delivered in its own drawstring bag. 
Pair it with The Snorkel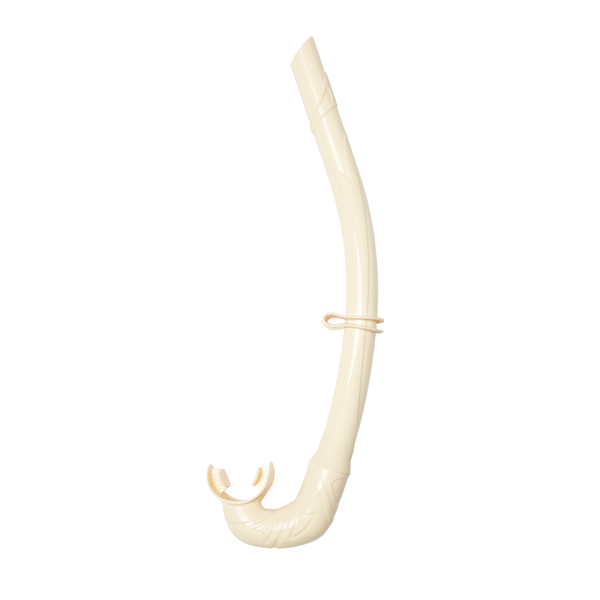 Directions
Polish internal lens with anti-fog or saliva to help minimise fogging - fogging will decrease with use.

Adjustable strap on mask to prevent slipping and provide a snug fit. Adjust by pulling straps on either side.

Store in a dry, cool place out of direct sunlight.
Product Knowledge 
• Panoramic view mask
• Clean mask in warm fresh water for a few minutes after use to avoid corrosion
• Mask can fog up with change of extreme temperature
• Avoid using soap or detergents. Use soft glasses cloth to dry face lens
• Avoid drying face lens with abrasive materials such as towels
Dimensions
mask; 14cm x 12cm
Materials
• 100% rubber
• Single-lens mask
• Tempered glass
Safe Habits
• Store out of direct sunlight in a cool dry place. If left in direct sunlight, for a prolonged period, discoloration / colour fading will occur.
• Be mindful of what items mask is stored with
• Store away from hard/sharp objects
• Avoid contact with black/dark rubber items to reduce risk of colour transference
• Keep dry after use